On the 19th and 20th July 2012, four people from the Community Schools' Program (CSP) attended the Water Purification Workshop in Mae Tao Clinic, Mae Sot. These included:
Saw Tha Hay (field coordinator),
Ler Htoo (Camera man),
Mya Thein (Meeting minute taker)  
Saw Issat Htoo (A Teacher fromThayToeLorprimary schoolPrimary School.)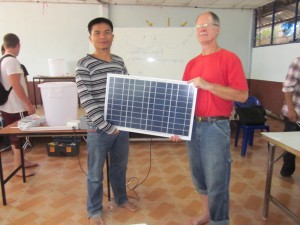 Water purification is a big issue in remote areas such as CSP's schools. Every year people die from diseases related to water quality. This workshop had two main objectives: firstly, to educate CSP's staff on how important water purification is. The second objective was to learn how to make useful handmade water filters.
The CSP's staff learnt how to make a biosand water filter and a UV water filter. They also received an "Installation Manual" translated from English to Burmese. This way CSP's staff can train CSP mountain schools' teachers about water purification.
The workshop was held in Mae Sot by a group of US students, led by their professor Mr. Doug Hollingeer. The CSP's teacher and staffs and the US students built four UV water filters and CSP received a donation of four solar panel systems to set them up in CSP's mountain schools.