Organising the WCPRC activity and the basic child rights workshop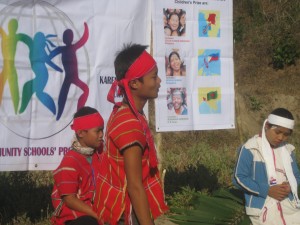 From the 8th to 10th of December there was basic child's right training, a student global vote preparation workshop, and teacher training. The workshop was two days long and was attended by both teachers and students alike. There were 63 people in attendance altogether: 6 teachers, 2 schools committee members, and students from 24 different schools. Students returned to their own school and to share what they had learnt with their colleagues and peers at the children's workshop.
Two new schools are situated in a Burmese controlled area and are located far from the rest of the schools causing there to be concerns about security. Due to this issue the children from these schools were not able to participate in the WCPRC/global vote.